As the old saying goes, "Distance makes the heart grow fonder," and we couldn't agree more.
As we continue supporting the health and safety of our community by working from home, we're pausing to reflect on how fortunate we are to have a space created specifically for interior designers. With so much uncertainty right now, we want to say thank you to our members, our team, and the creative minds that make Studio88 a reality.
We look forward to the day we can dive back into the palpable collaborative energy of Studio88. Working from home as an interior designer poses unique challenges. We're creative beings who thrive on collective energy. We're sensitive to our environments, and often struggle to focus when our work space is disorganized or chaotic. (The truth in this may ring louder now than ever.)
We have a lot to work with — samples, deliveries, binders, files, the list goes on!
We thrive on teamwork for creative discussion, sharing advice, and developing our talents.
In a moment when it is crucial to do our part and stay home for the safety and health of our families and community, we want to stay positive and say we are going to get through this.
IN THIS SPIRIT OF GRATITUDE, WE WANT TO SHARE OUR LIST OF FAVORITE RESOURCES AT STUDIO88: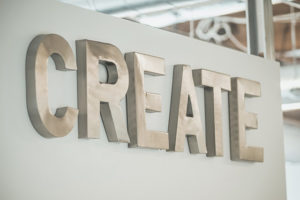 1. Sense of Community
Whether you're dropping into the studio for a day pass, you have a flex membership, or you're a full-time member, the sense of community at Studio88 is what sets us apart from other work environments. Between our after-hours Create + Connect events and daytime vendor presentations, there are endless ways to interact and engage with our industry peers.
2. Office Supplies Just a Few Steps Away
We have everything an interior designer needs under one roof. You'll never find yourself running to Office Depot in the middle of your workflow again. Our studio is stocked with all the supplies our industry needs to get the job done.
3. Warehouse Services for Retailing and Accessory Orders
Have you seen our warehouse yet? As a member, you have access to our warehousing services, which means you can have your retailing and accessory orders shipped to us and we'll receive and store them. We can also pack them up for you for an upcoming install.
4. Sample Libraries
We love sharing our samples! We have a residential and commercial library on site, with large white work tables for you to sprawl out your ideas. Our libraries are updated by vendors frequently to ensure we have the latest trends and materials available.
5. Conference Rooms
We miss our conference rooms! We have both a large and small conference rooms available to rent for any meetings you may require. While we're appreciative Zoom is here for us to continue our meetings while we maintain social distance, we look forward to the day we can once again order catering for a client who has an important lunchtime presentation. Talk about palpable creative energy!
6. The Perfect Cup of Coffee, Every Time
We may not be baristas, but we have a reliable Keurig that we miss so much! Just another perk of working together — the coffee is always on us!
7. Snacks & Spa Water
Designers need fuel! We miss our sweet and savory snacks, but most of all — we miss our spa water! Always a surprise, we tempt you with creative water infusions like cucumber cantaloupe or mint, strawberry, and lime. Different every day, there is never a dull (or thirsty) moment at Studio88.
8. Having a Printer Without Having to Deal with Having a Printer
If you've ever encountered a printer jam alone in your home office the morning of a presentation, this one's for you. Another amazing perk about working together at Studio88 is that we have ample resources and connections to help you succeed in your business.
9. We Succeed Together
Lastly, we're grateful for the core values of our business that ring true no matter if we are working alongside each other or socially at a distance. We succeed together, despite the challenges we face.
Until we see each other again, we wish you productive days ahead filled with quality family time and bursts of creative inspiration.
Cheers!